Volkswagen Jetta TDI Cup Series: On the Track With the Kids
April 18 2018, Rimar Volkswagen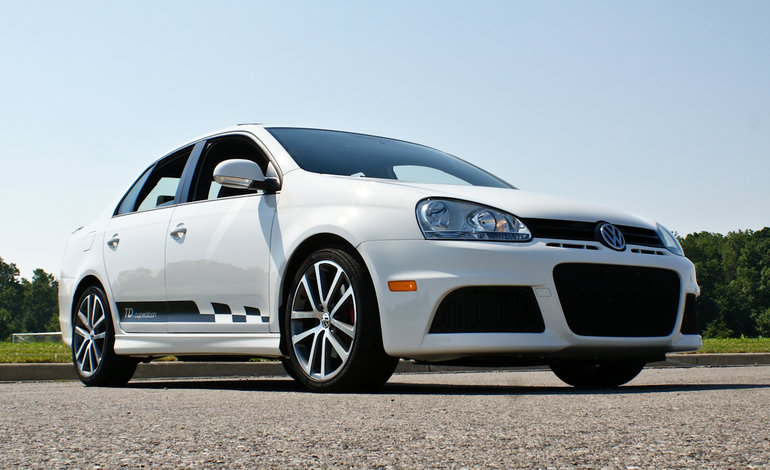 Take 30 young drivers between the ages of 16 to 26 carefully chosen from several thousand hopefuls. Put them behind the wheel of race cars rigorously and identically adjusted by the manufacturer. Preferably choose one of the cleanest and most frugal compact sedans out there. Then set up a solid structure that will organize a succession of events on some of the best circuits in North America. Put it all together and you get the Jetta TDI Cup, one of the best series in motorsport and definitely the most environmentally friendly.
Volkswagen even goes so far as to plant trees in Louisiana to completely make up for the energy consumption of this big caravan, not to mention the fuel for the race cars, generators, transport trucks and other back up engines, which combine biodiesel and synthetic diesel, to ensure that its 'carbon budget' is perfectly neutral.
For the second time at Mosport
The Jetta TDI Cup was launched in 2008 and has very recently made a second appearance in Canada at Ontario's legendary Mosport circuit from August 28-30. For the occasion, Volkswagen invited three drivers to rub elbows with the Series' young regulars who were on the seventh of ten races of the 2009 seasons. Maximilian Hackländer, a 19-year old German driver who is one of the leaders of the Polo Cup racing series in Europe was among the guests, along with two journalists: Jim Kenzie of the Toronto Star and yours truly.
My comrade Kenzie and I were very amused by the idea of being more than twice the maximum age of the drivers registered in the Jetta TDI Cup. Jim has been driving at Mosport for 35 years but I haven't raced there since I participated in the last running of the 24 Hours of Mosport in 1992. I was eager to get back to this ultrafast, uneven and technical circuit that includes some of the most difficult turns in motorsport. Unlike the Circuit Mont-Tremblant, another mythical circuit laid in the same era, the 3.96 km Ontario circuit has never been completely resurfaced since its creation. It was widened in places to make it comply with FIA standards in 2003, but the surface itself seems not to have changed since 1992, except for the large bands of concrete that now prevent the track from wearing away.
True diesel race cars
My first mission upon arrival at the track on Friday was to get to know the car and to make sure I had a good driving position. Since the Recaro racing seat is bolted in place, it's Tristan Brannon, my race mechanic, who took care of it. He's a member of the small army that ensures the Series' car preparedness. Volkswagen Canada's Peter Viney notes that the cars are built without seats and without any interior finish, by simply playing around with the computerized assembly codes. It's clearly more logical and less costly than stripping a car that was already assembled as is normally done.
The TDI Cup version Jettas are made up of about 70% standard parts and 15% components borrowed from other VW models. For instance, they keep their original dashboard, their door panels and the essential driving accessories: turn signals, windshield wipers, defrost and ventilation system. Add to that the safety essentials: full safety cage, fire extinguisher, central switch, side safety net, etc. By toying with the assembly codes, you add a Golf GTI sport steering wheel and the Passat's rear brakes. The large 355 mm diameter front disc brakes with four-piston Brembo callipers have been borrowed by the large Audi R8. ABS is included, so braking will never be a problem in a race.
The TDI Cup version Jettas are powered by the European version of the 2.0-litre four-cylinder direct injection turbo engine. It features 170 horsepower and a maximum torque of 258 lbs-ft at 1,900 rpm. It's paired with the six-speed DSG dual clutch automatic transmission with wheel-mounted shifters. Every car comes with an AiM data collection system that shows both the gear and indicates the optimal point for shifting (precisely 4,400 rpm) with coloured diodes. Volkswagen maintains that in-race fuel consumption is only about 10 litres per 100 km and cars can complete the whole season on only two tanks of fuel.
These Jettas have a very special fully adjustable suspension and the pronounced camber angle of the wheels is immediately noticeable. The 18-inch alloy rims are fitted with Pirelli P Zero slicks or grooved tires, depending on conditions. Just imagine that the Series' mechanics have to change the tires of some thirty cars at the same time while a race team generally has only three cars at the most. It's all over in 30 minutes.
Serious matters
Most of the younger drivers in the TDI Cup Series have a lot of racing experience, acquired generally in karting, autocross or in single-seater racing. That's how they set themselves apart during the selection process. The Series actually includes two young women this year. Theresa Condict from Massachusetts, a young McGill University physics and music grad, recorded the third-best time of the first trial session at Mosport, held on a wet track. However, she got wrecked during the qualifiers and her car was too damaged to race on Sunday.
The very first activity on the agenda was a detailed, turn-by-turn examination of the circuit led by Jan Heylen, the 29-year old Belgian driver who is the Series' head instructor. Heylen raced in Champ Car, Formula 3000 and won both the prestigious Formula Ford Festival in 2002 and the Renault Mégane Eurocup Series title in 2005. Heylen and his colleagues take their jobs very seriously. The young drivers are rigorously supervised and followed very closely, and they're advised on all aspects of motorsport from training to media relations. Heylen himself also goes on the track during trial and qualification sessions to set reference times and to be able to back up his advice to the drivers with actual data collected on the track.
Contact between cars is forbidden, but collisions are still frequent in the Series once adrenaline and testosterone are added to the mix. These driving errors are severely sanctioned and the instructors don't really mince words, which I interpret very simply as an authentic desire to see this young people be their best and succeed. The drivers have to pay up to $7,500 US for wrecks. If they don't pay, they don't race the next time. For some, a pile-up or flying off the track can mean the end of the adventure and the end of a dream.
Watch out for falling times
After a very early morning trial session on grooved tires, the Saturday afternoon qualification ended up being run on slicks and a dry track, which shaved ten seconds off the time in one shot. Georgia native Mark Pombo, who narrowly lost the title last year, was once again the fastest with a time of 1:37.160. On his very next lap, he led Calgary's Jake Thompson, one of the rookies this year, by a whopping seven tenths-of-a-second. This 23-year-old mechanical engineer quit his job after winning the second leg of the Series and led the championship up to the next round.
Andrew Cordeiro and David Richert, the other Canadian drivers who are Series regulars, qualified 10th and 22nd respectively. The young German guest Hackländer took 14th place with a time of 1:39.427 and my colleague Kenzie ended up 24th in 1:45.985. As for me, after gradually finding my bearings on the circuit, I qualified 19th with a time of 1:40.559 on my last lap. At the very least, I was happy to have brought the car back in one piece after avoiding a few cars in distress including three at once in turn 9 where Jake Thompson was at 90 degrees straight ahead of me, dead centre in the middle of the track. Four cars were very seriously damaged during the session. The mechanics hopped to it right away and three of the four cars were on the starting grid the next day.
A good script and a happy ending
I was at the circuit at 6 o'clock sharp on Sunday morning for a racers meeting at 6:30. At 6:10, there was a noise on the laminate roof of the enormous technical centre that houses the cars. The rain only fell for a minute or two at most, but it was enough to dash all hopes of racing on slicks for the race set to begin as scheduled at 8:30. As soon as the red lights went out, Mark Pombo took off and jumped out to the lead. I found that out later, of course, since I started in the tenth row. I played it very safe, remembering last year's pile-ups on the first and second turns of a wet track, and as a result I was overtaken by several cars and found myself at the tail end of a long pack of about ten cars.
Once the risk of a monster pile-up was gone, I went to work and gradually caught up to this group of cars. Shortly after, I caught up and started to overtake. I even passed two in a single lap. Not long after that, our grooved tires lost a lot of traction and there were hardly any wet spots left to cool them down. The car started to slide more and more, even navigating on straightaways as though it had a flat or two. I saw a car approaching, and thinking that it was the leader – there is no in-race calculator – or possibly a racer coming back on the track ready for a battle, and I eased up for a moment. That was enough to lose my position. Seeing that AJ Nealey was alone, I started to chase once again. I raced the next lap right on his bumper but I chose not to risk it all in the last turns.
Having no idea of my position, I hoped that I had made up a few places. Moreover, it was a race that was practically without incidents, cars going off the track, or DNFs. I ended up 19th, essentially making up the few places I lost at the beginning and wasting a chance to move up one. Despite this lacklustre finish in terms of position, this was definitely my best performance in a sprint competition in twenty years of very occasional racing, and I had a lot of fun.
Mark Pombo was all alone in front, even taking a 12-second lead at the beginning of the race. Fifth in the standings before Mosport, he showed that he had nothing to lose and went for the win at all costs. He walked away with the victory in style ahead of Timmy Megenbier, the 19-year old who is leading the overall rankings, and Toronto's Andrew Cordeiro who finished on the podium for the first time this year. There's a lot of talent, passion and energy in this unique green racing series. However, I completely agree with those who said to me at Mosport that they hope to see young Québec drivers there soon. After all, a season of Jetta TDI Cup, all included, on some of the nicest circuits on this continent costs almost as much as a serious season of karting.
Links for the Volkswagen Jetta TDI Cup Series
On the official site of the Volkswagen Jetta TDI Cup series, you can also access Facebook, Twitter and timing and live radio sites devoted to the series.
You can also earn a ride in the Jetta TDI Cup series by participating in a series of karting events. Click on this link for information.